DSM
|
EVO
|
EVO X
|
3000GT
|
NISSAN
|
BMW
|
SUBARU
---
STM SMALL BATTERY KIT | 02-07 WRX & STi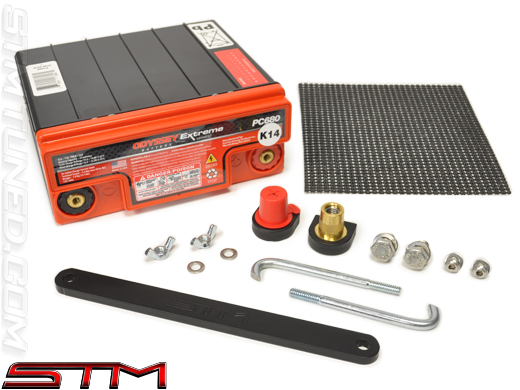 The STM Subaru Small Battery Kit for 2002-2007 WRX and STi includes everything pictured above and installs in minutes, cleaning up your engine bay and saving 20 pounds while lightening the load on that far corner.

If you already have a small battery kicking around, you can also purchase JUST our tie-down kit with the brushed aluminum finish.

- Battery lies flat, helping to keep the center of gravity lower.
- Includes an aluminum battery tie-down machined right here in Rochester, NY.
- Comes with a non-slip fitted pad to help keep the battery snug and reduce shock.
- Includes new tie down and stainless steel washers and wing nuts for a rust-free and easy install.
- Saves 20 pounds and lowers the center of gravity.

This tiny SP680 Dry Cell Battery can deep cycle as well as provide enormous cranking power... And it weighs less than 14.5 pounds! It is not recommended for high-amp powered stereo systems, though.

- 680 cranking amps for 5 seconds
- 595 cranking amps for 10 seconds
- 525 cranking amps for 20 seconds

Small batteries can fail if the posts are not torqued to 50 inch pounds! Additional torque will cause damage to your battery, so please be careful when installing.