DSM
|
EVO
|
EVO X
|
3000GT
|
NISSAN
|
BMW
|
SUBARU
---
STM STANDARD PLACEMENT TURBO KIT | EVO VIII-IX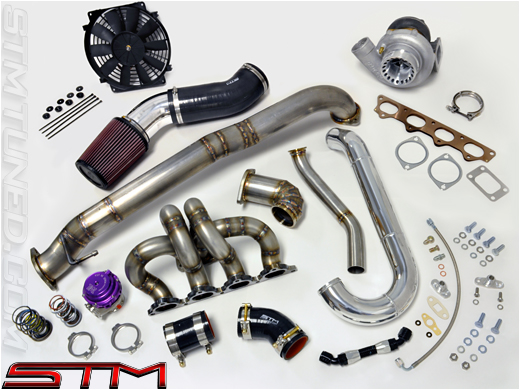 You've seen the cars, the builds and, most importantly, the STM results at the end of the 1/4 mile. Finally, we have our new turbo kit available in a complete, bolt-on fashion! This is the STM Evo VIII-IX Standard Placement Turbo Kit that has been proven time and time again on the STM cars, and most recently on the RS running a 9.3 @ 152!

Included in the STM Kit:

- PTE CEA Ball-Bearing Turbo (6766, 6266 or 6262)
- STM Tubular Manifold
- STM Aluminum Intake Pipe w/ 4" K&N Filter
- STM Oil Feed and Return Lines
- STM Dump Tube
- STM O2 Housing
- STM Down Pipe
- FAL 10" Fan
- All Necessary Gaskets & Hardware
- TiAL MV-R 44mm Wastegate (Choice of Color)
- STM Aluminum Lower 2.5" Intercooler Pipe (Including Couplers & T-Clamps)
- Made in the USA!

The intake pipe is set up for Speed Density, if you need a pipe to run a MAF, give us a call.

This kit will not fit with a "thick" radiator such as Mishimoto or Koyo. It is designed for the stock radiator, which is what we prefer for lightweight reasons.