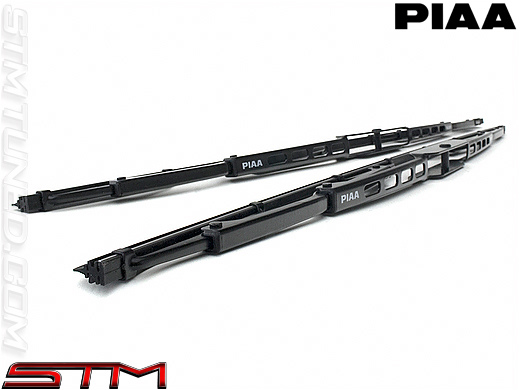 PIAA Super Silicone Wiper Blades.

- Evolution VIII-IX95060,95045,95043
- 90-94 1G DSM95050,95050
- 95-99 2G DSM95060,95055,95045
- 91-99 3000GT95053,95050
- Evolution X95065,95045
- R35 GTR95055,95048
- 02-07 WRX/STi95055,95043
- 08-14 WRX/STi95040,95060

In 1905, the spring-loaded wiper arm was patented. In 1913 it was replaced by a mechanical arm. Since then, the windshield wiper blade has pretty much remained the same...until now.

PIAA now offers a new clarity of vision in their silicone wiper blades. From the initial design process to extensive laboratory testing under the harshest conditions, this revolutionary windshield wiper blade outperforms every other blade currently on the market.

PIAA's Super Silicone Wiper Blades are designed to be the wiper of choice for many vehicles. Its revolutionary silicone insert means cleaner windshields and greater visibility.

PIAA Technology




The wiper insert of all PIAA wiper blades is made of silicone rubber, which ensures greater visibility by coating the windshield with silicone to promote continuous water beading in inclement weather. Water beads up into droplets at low speeds that are easily removed by ordinary wiping. And at higher speeds, wind pressure pushes the water off the windshield, often without even requiring wiper use.

The silicone coating also reduces drag and eliminates annoying and inefficient chattering, regardless of the shape of the windshield to provide greater comfort for both driver and passenger. And the best part is that PIAA Super Silicone Wiper Blades reapply the silicone coating every time the wipers are used.

PIAA wiper blades maintain a sharp, clean edge and offer better resistance to all climates - heat, ozone, ultra-violet, and wear - clearly out performing the industry standard.

That's what PIAA Super Silicone Wiper Blades can do for you. They are so advanced it may be another century before windshield wiper blades improve again.

Make sure you read the instructions (yes, the instructions) before you install these as you need to prep the windshield with the provided cloth and run the wipers dry for 5 minutes to dispurse the silicone coating.