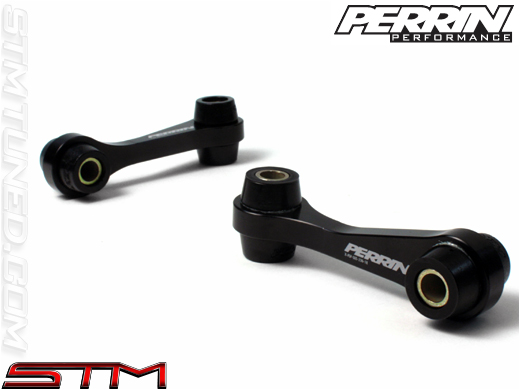 PERRIN Polyurethane Rear Endlinks

- Subaru 2008-2015 STi
- Subaru 2008-2015 WRX

Improve a known failure point with a set of high grade PERRIN Endlinks! PERRIN Polyurethane endlinks are significantly less expensive then spherical bearings with out a huge sacrifice in performance.

OEM steel endlinks are small, flimsy and can fail if a larger rear swaybar is installed. OEM endlinks are week and will flex greatly after installing a stiffer aftermarket swaybar. This flexing makes your stiffer aftermarket swaybar feel less responsive. PERRIN polyurethane endlinks are made with stiff polyurethane bushings pressed into 6061T6 aluminum arms to provide a solid connection between your swaybar and chassis. This translates into a more predictable and better handling car.

PERRIN endlinks are machined from solid 6061T6 aluminum and use our custom polyurethane bushings. The low profile design of PERRIN endlinks allow for ample clearance for even the largest diameter sway bars. Polyurethane bushings are a great alternative to someone wanting the race car type part, without the added maintenance or harshness of a Spherical bearing type endlinks.

PERRIN endlinks feature 95a durometer custom made polyurethane bushings. We choose a stiff 95a durometer material to provide a feel similar to a solid spherical bearing endlink but without the harshness or noise that can be associated with them after years of use. Polyurethane is extremely durable, nearly maintenance free and less expensive then bearing type endlinks.

PERRIN polyurethane bushing endlinks were designed for those living in climates where your vehicle is commonly exposed to corrosive elements. The combination of aluminum, polyurethane, and yellow zinc plated hardware make PERRIN performance endlinks very weather resistant and unaffected by wet climates and road salt.

PERRIN endlinks include high quality hardware including stainless steel spacers. We do not use cheaper, soft aluminum or plain steel spacers like our competition. Also included are high quality Grade 8 bolts and other hardware ensuring that you will not have a failure while driving around the track.



PSP-SUS-237