DSM
|
EVO
|
EVO X
|
3000GT
|
GTR
|
BIKES
|
SUBARU
---
INJECTOR DYNAMICS 2200cc HIGH IMPEDENCE INJECTORS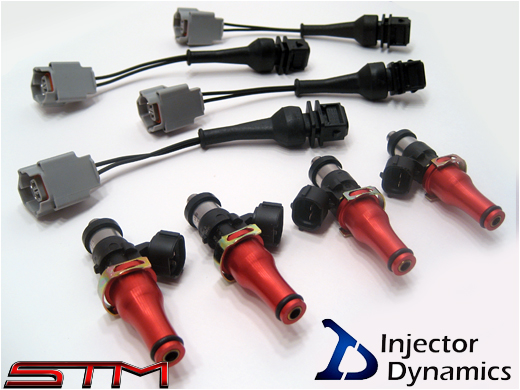 Finally, a great solution for people that need more than 1500cc/min!!

Price is for a set of 4 fuel injectors with the vehicle specific plug and play harness for installation.

The new Injector Dynamics ID2000 flows 2200cc/min at 3 bar (43.5psi) and is high impedance. That means no injector resistor or injector driver is needed. With the capability of running up to 130psi and flowing 3700cc/min, the needs for running multiple injectors per cylinder are gone on all but the most demanding methanol applications.

These are the injectors we run in our own shop car on E85.

Each injector includes the necessary adaptor top and electrical connector. The adaptor tops mechanically lock to the injector and also incorporate a 7 micron replaceable filter.

THESE INJECTORS CAN NOT BE USED WITH Q16 OR VP IMPORT RACE FUEL. AT THIS TIME NO OTHER GASOLINE HAS BEEN FOUND TO BE AN ISSUE WITH THESE.