DSM
|
EVO
|
EVO X
|
3000GT
|
GTR
|
BIKES
|
SUBARU
---
BRAD PENN MOTOR OIL | 10-30 | 10-40 | 20-50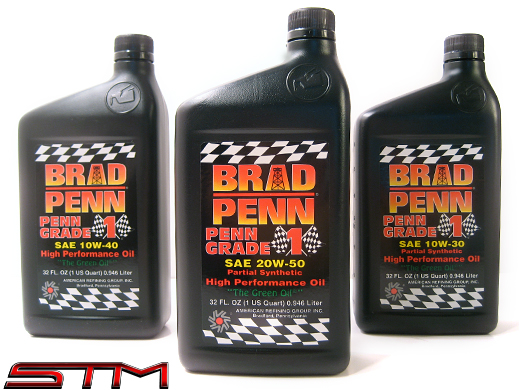 Partial Synthetic SAE 10W-30 High Performance Oil:
A truly versatile High Performance Oil suitable for engines used both on the street and/or the track. The multi-viscosity grade and synthetic components facilitate cold starting and quicker engine warm-up while insuring adequate engine protection during competition.

Partial Synthetic SAE 10W-40 High Performance Oil:
Designed to meet the lubrication demands of traditional classic and muscle car engines as well as high-performance competition engines, Brad Penn Penn Grade 1 Partial Synthetic SAE 10W-40 High Performance Oil offers the multi-viscosity advantages of faster oil flow and engine warm-up as well as excellent film strength and engine component anti-wear protection.

Partial Synthetic SAE 20W-50 High Performance Oil:
Designed to offer highr performance engines the cold temperature operational benefits of an SAE 20W engine oil while providing the desired film strength; sealing abilities; bearing, crankshaft, piston ring and valvetrain component anti-wear protection of an SAE 50 weight oil at normal engine operating temperatures.

Made in the USA!
Founded in 1881 at the height of the domestic oil boom, the Bradford refinery is the only refinery processing 100% Pennsylvania Grade crude oil. It is also the oldest continuously operated lube oil refinery in the world. Due to the consistency of their feedstocks, the quality of their products can be traced from the wellhead to the finished packaged product. ARG's refinery and blending and packaging operations are ISO 9001:2000 certified. The Bradford refinery was the first in the United States to carry the ISO 9002 certification.